The economic blowback from the Ukraine war, and cold war with China - is HUGE.
The blowback from the global economic war against Russia and China grows much larger, especially for Europe, and so-called emerging market nations as well. A recession is now certain for them, and increasingly likely in the US too. All to stop Russia from blocking Ukraine's entrance into NATO.
The Bloomberg article below this commentary
details the degree of pain this conflict is inflicting. As far as I can see, no one working very hard to end it. Security considerations appear to have negated security in favor of NATO domination of Europe. The "domination" strategy -- which has long legs ever since the end of the second world war, has yielded what harvest, exactly?
The European Central Bank and Bank of England are now facing a serious double-digit energy/inflation crisis, and a virtually inescapable recession threat. A recession in Europe and the rest of the world will not spare the US. Indeed the strong dollar is rapidly raising borrowing costs for the rest of the world facing a crisis that will likely compel massive borrowing.
The New PM in England, Elizabeth Truss, on her second day in office committed massive support to British households hit with energy costs that have increased nearly ten-fold. All with borrowed funds. The windfall tax on energy companies was rejected because it would disincentivize gas and oil resource investment at the same time there is no short term economic replacement for Russian natural gas.
All of these are consequences of the proxy war with Russia over US and EU plans to recruit Ukraine into the NATO military alliance. I say "proxy, because the economic boycotts and sanctions, and gas shutoffs, have consequences far beyond and frankly even bigger than those on Ukrainian battlefields.
Christine Lagarde's press conference
The official report of the ECB did not yet predict a recession.
That omission brought laughter from several quarters, given the extremity of the energy crisis. However ECB chair Christine Lagarde responded to the laughter in her press conference today as if prepared for it. She confessed the published "base line" forecast as essentially optimistic, but noted that the ECB also had a "downside" forecast that was "grim", even "apocalyptic", and proceeded to enumerate dire risks if the war and boycotts and shutoffs extend -- or advance --beyond six months.

The energy corps and defense contractors are the big winners, so far. Everyone else should gird themselves for "demand destruction" -- a fancy term for layoffs and poverty, food and energy insecurity -- guaranteed to stop people from buying anything. However, the energy firms themselves are such concentrated and massive firms that windfall taxes on their skyrocketing wealth to pay for the costs apparently cannot be contemplated.
A socialist would be inclined to say: "Let's nationalize the "too big to fail" energy firms and be done with the endless blackmail to Exxon et al profits. It is tempting to suspect very cynical geopolitical plotting to some of these firms.

The invasion of Ukraine by Russia was not justified according to my understanding and support for Benjamin Franklin's outlook on foreign policy and war ["I never saw a good war, nor a bad peace" -- that from a veteran soldier, revolutionary, AND peacemaker] .
But neither was it unprovoked. I am neither a Ukrainian, nor Russian. Further, I live in a country of routine mass and schoolhouse slaughters, staggering inequalities and miscarriages of justice, and am not inclined to pre-judge or lecture other countries on their alleged bad or criminal behavior.
To my friends on the left who affirm an absolute right of a nation to self- determination, regardless of regional or global security considerations, and therefore have joined hands with imperialism to "liberate Ukraine", I see no road to peace in that stance and no road to "self-determination" of any kind.
If one joins hands with imperialism to pursue what looks like virtue, he will end up losing his arms and legs too. Truth is the first casualty in war reporting, but where is an example of the US "liberating" anyone since WWII? It this is one, it would be the first. Without new, updated regional security, the US led liberation of Ukraine, and the hoped for overthrow of the Russian government, there will more likely result in a holocaust than self-determination for anyone.
Marxism and Self-determination
On the question of self-determination, many rose to cite V
.I. Lenin's extensive remarks on this subject
, which I just re-read. Putin has criticized these remarks for things they do not actually say. Some US Marxists have defended them, too, for things they do not actually say. An Odd correspondence.
Lenin's intent was -- to refute Rosa Luxemburg's efforts to limit the right of nations to self determination, subject to whether the nationalistic movements were socialist, or not.
Since the Marxist conception of nations is entirely subordinate to their historic evolution as bourgeois organizations of society, Lenin argued it would be absurd to see them as having any other than a bourgeois state for their objectives, suited to bourgeois relations of production and politics. On the other hand, he says nothing on the "rights" to join military blocs and disrupt regional security. Indeed, the latter assertion seems irrelevant to the point the master Marxist was trying to make.

I believe, however, it was George Washington. who said, near-about from memory, "in matters between nations, interests rule". Not, primarily, a moral "good" or "bad". quality to either friendships or conflicts between personalities. Whatever may be said of the invasion --- a horrendous, likely global economic bomb is now ignited by the US led boycotts and sanctions counter-attack. . The latter will create existential circumstances in numerous EU countries.
A massive failure of diplomacy needs to be corrected.

A massive failure of diplomacy permitted this war to start. Understanding interests, as well as ideal principles of a given nation or culture, is the key to giving diplomacy its best chance at deals that preserve and protect each party's existential interests. Even when diplomacy fails, the peacemakers' role and mission, especially in a nuclear armed world, must be redoubled in order to avoid 'apocalypses'.

The conflict in Europe is not unrelated to US attempts under both Trump and Biden to overthrow Chinese sovereignty in both Hong Kong and Taiwan. The sovereignty of China in both cases is affirmed in numerous treaties and signed documents. China has shutdown of US incited separatist agendas in Hong Kong and is plainly determined to do the same in Taiwan. What do the American people gain from subverting Chinese sovereignty? Who is threatened by who? And for what purpose -- other than "domination"? China has one foreign military base and 4 unarmed "offices", according to Google. The US has over 700, over 200 being well armed.
The global economic and political war against Russia and China is the wrong strategy for these times. The pandemic, climate change, the proliferation of nuclear arms all call for aggressive "cooperation", not "domination" diplomacy. Russia and the world have mutual interests strong enough to achieve peace, to end the decades long expansion (to Putin--"aggressions") of NATO eastward, to devise new security frameworks that include, not exclude both Russian and Chinese participation, to end the global economic war which Biden falsely called "competition", to end militarization and occupation of Ukraine, and Russia's shut down of natural gas to Europe. All these goals demonstrate the urgent, imperative need for diplomacy and renunciation of domination policies on all sides.

Russia lit the match. But the global economic bomb has a recognizable "made in the US imperial" brand.
What is the price of this bomb? Inflation and recession.
The FED has likely little choice but to sharply raise interest rates in the face of inflation steadily exceeding wage raises. It has and very few tools, to curtail inflation. Against the back drop of the war, and cold war, and sluggish asynchronous recovery from the pandemic related supply chain disruptions, raising rates will indeed "destroy demand", but the geopolitical conflicts may negate most of their impact on inflation.
Biden's entire foreign policy seems oriented toward giving rebirth to 70 year old cold war alliances and frameworks dedicated to containing, repressing and destroying socialism in every form. These alliances besotted with too many wars and failed interventions to enumerate, or to be credible as "defenders of human rights, or democracy". He seems determined to defy the slightest change in the essential post war US imperial position -- but in a much more multipolar world --: that peace is only possible if one nation is "dominant".

Such a position is, and has been, a cover for aggression. It mimics a Cartoon General's idea of peace through permanent war. It is difficult not to link the decades long NATO expansion eastward to the resurgence of Russian nationalism, which rose pretty much in (counter) proportion. The destruction of Russian socialism under the title of "the Washington Consensus" was a primary objective of the Bush and Clinton administrations following the collapse of the USSR. Indeed, the so-called "Oligarchs" were a direct corrupt result of Clinton inspired policies designed to destroy state economic ministries in Russia, deny Russia NATO membership, and open it to the mercies of US neoliberal investment. Ditto, really, the plan for Ukraine. By "neoliberal" I mean the proposition that the US is the worlds greatest democracy and that systems of bourgeois dominated political "democracies", like the US, are the only worldly perfection path permissible..


Now President Zelensky is calling for limited nuclear war. The rights and wrongs of the Ukraine war can be debated for years, but a a diplomatic failure of massive proportions need not be followed by an even bigger one. Biden and Putin, aided by any and all third parties, must move toward diplomacy.

The power of energy becomes the central question of global political power and hope for stability. I will include links to LeGarde, PM Truss, and a lengthy interview with Fed Chair Powell on both forecasts and ideology around these moves.

john
*********************************************
*********************************************
Next Winter's Crisis May Be Even Tougher for EU: Energy Update
BLOOMBERG.COM
Next Winter's Crisis May Be Even Tougher for EU: Energy Update
The European Union is set to intervene in energy markets to take the pressure off companies that are being squeezed by a liquidity crunch. It will also propose a clawback on excess profits by power and oil companies as it seeks to protect citizens from soaring costs.
Supply to remain tight until at least 2025 on LNG bottlenecks
Demand destruction is coming to Europe, energy executives say
While European politicians are focusing on the region's survival this winter, next year could be worse.
The loss of Russian natural-gas supplies will cause reserves to be depleted faster when temperatures drop in the coming months and make the process of preparing for following heating seasons even more difficult. With no quick fix available, the strain is set to last until at least 2025, according to energy executives.
"Europe could have an even bigger problem next winter," Niek Den Hollander, chief commercial officer at German energy giant
Uniper SE
, said in an interview at the Gastech conference in Milan this week. "It is possible that nations won't be able to fill up storage sites next summer as much as we have managed to do this year."
Europe is gripped by its worst energy crisis in 50 years as Russia slashes deliveries in retaliation for sanctions imposed over its invasion of Ukraine. With prices soaring, the squeeze has intensified a cost-of-living crisis and pushed economies to the brink of recession.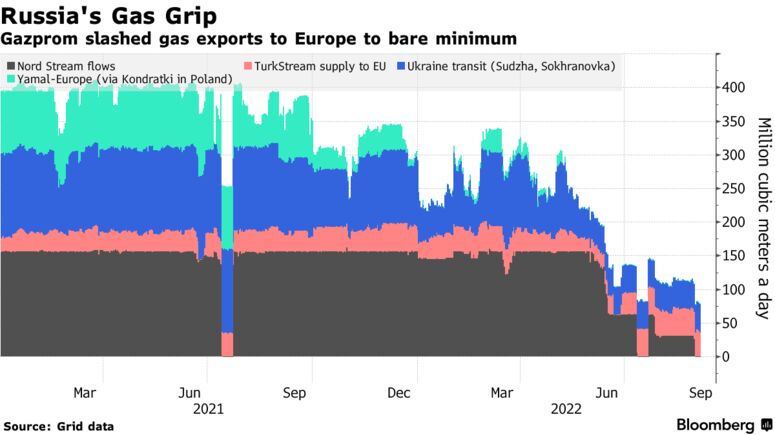 Europe's leaders are dealing with the near-term pain and have earmarked more than 300 billion euros ($297 billion) to take the sting out of soaring energy costs this winter. But they face a reckoning when those measures expire and there's still no relief.
"It'll be somewhere between 2025 and 2027 that we'll see the prices in Europe coming back to where they were at the beginning of 2021," Ed Morse, global head of commodities research at Citigroup Inc., said in a
Bloomberg TV
interview. Capacity for exporting liquefied natural gas "doesn't grow overnight."
Read more: EU to Consider Emergency Power-Use Cuts, Price Caps, Profit Grab
After decades building up its reliance on Moscow, the region now faces a painful reset, with strapped consumers forced to rein in usage and businesses cutting output.
"This is going to culminate in demand destruction," said Charif Souki, chairman and co-founder of LNG developer
Tellurian Inc.
"People will have to change the way they live. You will drive your car less often, you will turn on your heating less often, you will turn on your lights less often, and you will have to live with industrial production that is curtailed."
Coping With Gas Cuts
European gas demand falls this year despite higher usage in power
Source: Wood Mackenzie
*Aggregated 7-day average for Belgium, France, Germany, Greece, Italy, Netherlands, Poland, Portugal, Romania, Spain, UK
The key problem is that Russian gas -- which last year covered about 40% of European Union demand -- can't easily be replaced. After
Gazprom PJSC
cut flows through the Nord Stream pipeline indefinitely over the weekend, supplies via Ukraine could be next.
"If the Kremlin's end game is to completely starve central Europe of Russian gas supplies, then certainly transit via Ukraine is at risk," said Laura Page, a senior LNG analyst at energy-data company Kpler.
The EU aims to discuss a price cap on Russian gas imports, part of an
unprecedented plan
to step into energy markets. President Vladimir Putin has already warned that Moscow won't supply anything if the cap is introduced.
The standoff puts pressure on Europe's leaders to diversify sources. Norway is now the main provider of Europe's gas, but it doesn't have capacity to fully offset supplies from Russia. Other nearby suppliers such as Azerbaijan and Algeria face some similar bottlenecks.
Filling the Gap
LNG and Norway replaced Russia as Europe's top gas provider this year
Source: ICIS
LNG, which can be carried by ship from far-away producers such as the US and Qatar, is a promising option. Germany -- among the countries most exposed to the loss of Russian deliveries -- is pushing to open its first floating LNG terminals in the coming months.
But import capacity is only one side of the problem. Global LNG production is already tight and increasing capacity takes as least three years, according to Colin Parfitt, vice president at
Chevron Corp
. Meanwhile, Europe has to fight with Asia for the existing volumes for the next couple of years.
With Europe facing a smaller pool of gas available, markets will remain tight for the foreseeable future.
"We will get back to a more normal situation, but it will take time," Helge Haugane, senior vice president at Norwegian energy company
Equinor ASA
. "Volatility in prices is here to stay for longer."