Unemployment claims topped 1.1 million last week: Congress must pass bold relief measures to keep crucial programs from expiring
https://www.epi.org/blog/unemployment-claims-topped-1-1-million-last-week-congress-must-pass-bold-relief-measures-to-keep-crucial-programs-from-expiring/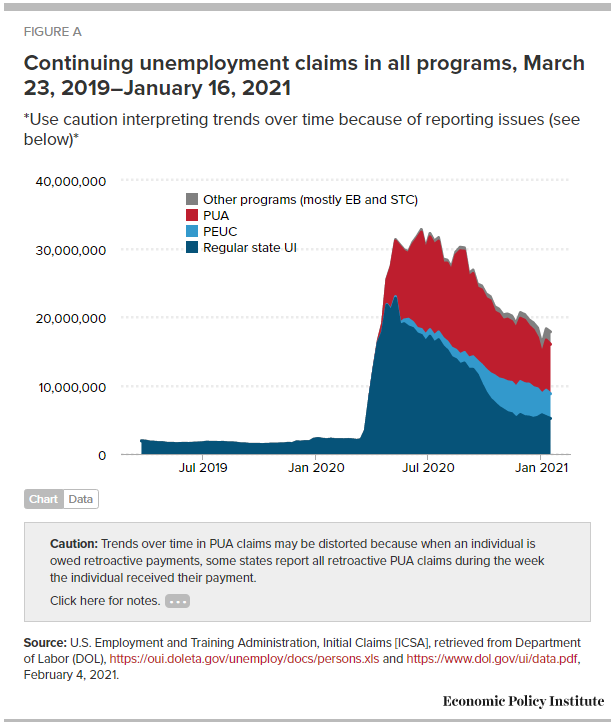 Another 1.1 million people applied for unemployment insurance (UI) benefits last week, including 779,000 people who applied for regular state UI and 349,000 who applied for Pandemic Unemployment Assistance (PUA). The 1.1 million who applied for UI last week was a decrease of 88,000 from the prior week, but the four-week moving average of total initial claims ticked up by 51,000—back to where it was in mid-October.
Last week was the 46th straight week total initial claims were greater than the worst week of the Great Recession. (If that comparison is restricted to regular state claims—because we didn't have PUA in the Great Recession—initial claims last week were still greater than the third-worst week of the Great Recession.) I should note that throughout this post I use seasonally adjusted data where I can, but for comparisons to the Great Recession I use not-seasonally-adjusted data, since the Department of Labor (DOL)'s improved seasonal adjustments aren't available before the week ending August 29, 2020.
Most states provide just 26 weeks of regular benefits, meaning many workers are exhausting their regular state UI benefits. In the most recent data (the week ending January 23), continuing claims for regular state benefits dropped by 193,000. After a worker exhausts regular state benefits, they can move onto Pandemic Emergency Unemployment Compensation (PEUC), which is an additional 24 weeks of regular state UI (the December COVID-19 relief bill increased the number of weeks of PEUC eligibility by 11, from 13 to 24).
However, in the most recent data available for PEUC, the week ending January 16th, PEUC claims dropped by 290,000. I expect that to rise again in coming weeks. Over 3.5 million people had exhausted the original 13 weeks of PEUC by the end of December (see column C43 in form ETA 5159 for PEUC here). These workers are eligible for the additional 11 weeks, but they need to recertify. PEUC numbers will continue to swell as this occurs.
Extended Benefits (EB) is another program that workers in some states can get on after they've exhausted PEUC. EB has rose 376,000 between December 26th and January 16th. It appears that some workers who had exhausted the original 13 weeks of PEUC are getting on EB before they get their additional 11 weeks of PEUC. This is likely due to the delays getting PEUC fully operational again after the lapse that occurred while former President Trump delayed signing the December relief bill.
Continuing claims for PUA dropped by 126,000 in the latest data, the week ending January 16th. I expect that to rise again in coming weeks. The December bill extended the total weeks of PUA eligibility by 11, from 39 to 50 weeks. As workers who exhausted PUA before the extensions were signed get back on PUA, we can expect the PUA numbers to swell further.
The 11-week extensions of PEUC and PUA just kick the can down the road—they are not long enough. Congress must pass further extensions before mid-March, or millions will exhaust benefits at that time, when the virus is still rampant and the labor market is still weak.
Figure A shows continuing claims in all programs over time (the latest data are for January 16th). Continuing claims are currently nearly 16 million above where they were a year ago.
January jobs data will be released tomorrow morning, and expectations are that things in January were little changed from December. As of December, there were 26.8 million workers—15.8% of the workforce—who were either unemployed, otherwise out of work because of the virus, or had seen a drop in hours and pay because of the pandemic. More relief is desperately needed. A key reason more relief is so important is that this crisis is greatly exacerbating racial inequality. Due to the impact of historic and current systemic racism, Black and Latinx workers have seen more job loss in this pandemic, and have less wealth to fall back on. The $900 billion December COVID-19 relief bill was not nearly enough. To get the economy back on track in a reasonable timeframe, we need policymakers to pass an additional roughly $2 trillion in fiscal support. In particular, it is crucial that Congress provide substantial aid to state and local governments. Without this aid, austerity by state and local governments will result in cuts to essential public services and the loss of millions of jobs in both the public and private sector.
President Biden announced a relief and recovery package that gets the economics right; his proposal is at the scale of the economic challenge we are facing and is a clear break from the mistakes we have made in past recoveries, when we hobbled the economy by not doing enough. With their slim majority in the Senate, Democrats can now get crucial relief measures through reconciliation, and they must be bold. Top priorities include COVID and vaccine measures, aid to state and local governments, additional weeks of UI, and increased UI benefits.

 -- via my feedly newsfeed